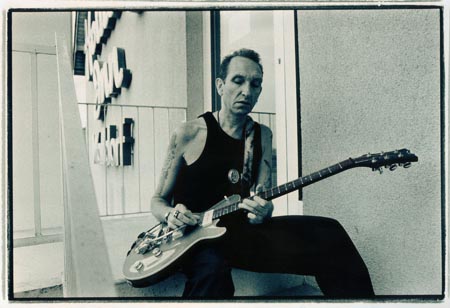 Photo Axel Beinert 2001. "Holiday Inn"

STEVE HOOKER
STRIPPED DOWN
STOMPIN' BAND
PRE CHRISTMAS SHOWS 2023
Sunday 10th
Pogue Mahon's Norwich
playing two sets 7pm
Saturday 16th
Ye Olde Smack Inn Leigh on Sea
+ special guest * Rockabilly Star * Levi Dexter 8pm
"Seven Veils" CD and Download Album
New Year release
advance copies in December
FILEBUSTERS ROCKIN' EUROPE AND THE UK


STEVE - GUITAR, BOTTLENECK, VOX


(Heat, Shakers, Bozmen, Rumble, Drugbuster)
VIC - FENDER BASS
BRIAN - DRUMS, BV's
THE SAME KREWE WHO CUT THE ACCLAIMED
"OLD TESTAMENT OF LOVE" AND "SADIE BROWN"
Steve ex Heat, Shakers, Boz and the Bozmen, Rumble has burnt the black candle at both ends recording and touring the UK, Europe, Japan and the USA since 1977. He also played and recorded with Boz Boorer, Captain Drugbuster, Levi Dexter and Wilko Johnson and shared stages with Geno Washington, Chuck Berry, Steve Marriott, Johnny Thunders and Robert Gordon.
This Band is like nothing you've seen or heard before, an Elvis Mic, two amps and a snare drum. Their new limited edition CD and download "The Old Testament Of Love" is a dark dream of dance hall rockabilly, folk devil blues and Storyville soul from Opium Roses pillow. Recently they opened shows for the Vibrators, Skabilly Rebels, Daddy Long Legs and Glen Matlock and feature on the soundtrack of the film "Rolling Stone"
They have made their mark at significant venues and festivals including the 100 Club with Robert Gordon, Gaz's Rockin' Blues, the Walldorf Rock 'n' Roll Weekender (Germany), headlined Chez Paulette (France) and the Secret Garden Party and Steve made a cameo appearance in the film "Looking For Johnny".
Even in these strange days they continued to work on new material, archive projects, a short music film "Opium Rose" and played around London and the UK.
Now 2023 is lookin' good with bookings, airplay and press.
Photos Wim Taveirne "Vic Brian Steve"
| | |
| --- | --- |
| | 2002 Toured |
| | 2004 Toured |
| | 2006 Toured |
| 2007 Toured | 2008 Toured |
| 2009 Toured | 2010 Toured |
| 2011 Toured | 2012 Toured |
| 2013 Toured | 2014 Toured |
| 2015 Toured | 2016 Toured |
| 2017 Toured | 2018 Toured |
| 2019 Toured | 2020 Toured |
| 2021 Toured | 2022 Toured |
| 2023 Booked | |
Featured Products