When The Heat toured the UK in 1977 with ex - Feelgood Wilko Johnson, we lived out most of our sleaze and rock 'n' roll fantasies between Liverpool Eric's, Birmingham Barberellas and Aylesbury Friars. We were "asked to leave" top punk club The Roxy after playing rockin' covers like "Little Queenie" and "Let's Dance" and released an eponymous EP. The subsequent Steve Hooker Band single "Keep Dancing" in 1979 topped the Record Mirror "Other Chart" and broke the ice at London venues like The Hope and Anchor.
Photo Fin Costello 1979
"D.T.K."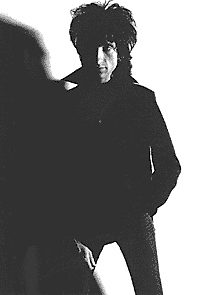 The Shakers kept the rock 'n' roll flame burning (almost single handedly) in Southend from 1982 to 1987, toured France fifteen times and stopped off in Switzerland and Luxembourg. Ram Jam Geno Washington befriended us at a Fulham Greyhound gig, we opened Mr Maybelline Chuck Berry's UK shows in 1983, Small Faces Steve Marriott's comeback at Dingwalls Dancehall in 1984 and for New York Dolls Johnny Thunders on his birthday at The Marquee in 1985. We released "hit" single "Temptation Walk", French LP "Really Gone" and "The Missing Link EP".
Photo Jack 1986
"Don't you mess with my birds nest!"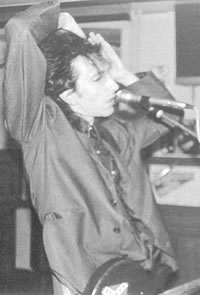 Following the example of an early hero Chuck Berry, Rumble was a stripped down unit built to tour. No semi-trucks, lighting rigs or the like, when we hit town with the bass strapped to the roof and the drums in the trunk you knew we'd arrived! Like another rockin' idol Gene Vincent, in the same black leathers night after night we hit the high and low spots of France, Holland, Belgium, Germany, Switzerland, Finland, Spain, Eire, The USA and The UK on another thirty six trips from 1995 to 1999. We appeared on the soundtrack of "Burning Love" / "Rockabilly Vampire" (the film) and released "Hell For Leather" (10" vinyl 1996) then "Loco Rumble" (cd 1998).
Photo: Dominik Schunk 1996
"Smokin' Guitar"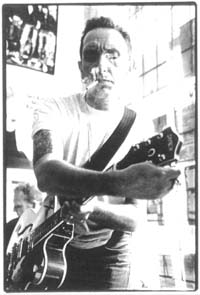 ---
STEVE HOOKER "40 YEARS IN FRANCE"
Vision John Clark 2023
Steve Hooker : Stripped Down Stompin' Band | Archive Press and Releases