opening hours

monday
closed
tuesday
10.00 am - 7.00 pm
wednesday
closed
thursday
10.00am - 7.00 pm
friday
10.00am - 5.30 pm
saturday
10.00am - 5.00 pm
sunday
closed
Please telephone
01702 390916
to book your Haircut.

*Pandemic notwithstanding Elaine
is still recovering from an accident
in January but she hopes to be
cutting again part time soon.
Special thanks to Helen for helping out
during this difficult time.
You may call us
or watch this space for updates
(we aren't taking bookings at the moment)


The original one stop for flat tops and all rockin' styles.
Southend's rock 'n' roll barber shop, established 1987, proprietor Elaine Hooker.
also stockists of American pomades

house brands
TOOTS SWEET
do right crème
NEW!

As seen on....
"Southend Rock"
Marquee Series
Anglia TV (UK)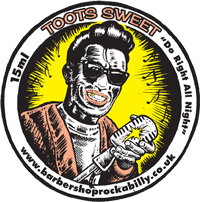 DO RIGHT CREME